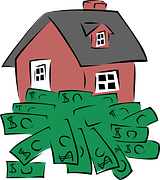 Owning an Investment property in another city or state can be a challenge.
Are repairs being done properly and by licensed professionals?
Upon your request, I will:
• Give you current market value rents on your property, based on comparable rental market in the neighborhood.
• Take a digital photo of the property and email it to you so you can view the current condition.
• Give you free, over-the-phone market evaluation of the property, based on our database of the sold properties, in the same area.
Plus I can offer money-saving advice on –
• The best individuals or companies for carpeting, painting, roofing, electrical. Plumbing and landscaping.
• Property management services from experienced managers and investors.
• Selling or considering other investments in the area.
Remember, my service does NOT cost you anything, because frankly, the research keeps me on top of the market. Just consider it a professional courtesy from a fellow investor who has found himself in the same "afar" situation. When are ready to discuss your investment property's sale, refinancing, rezoning, 1031 tax deferred exchange, or even other investment property purchases, I ask you keep my services in mind.